Metzeler add to their innovative range of tyres using the latest Interact™ technology with the introduction of the ultimate Sports Touring tyre, the Roadtec Z8 Interact.
Developed with Sports Touring and Naked bikes in mind, the new Roadtec Z8 gives unmatched feedback, consistent performance and great stability at high and low speeds. The new tyre retains good comfort even over long distances and when loaded with a passenger and luggage. The Roadtec Z8 Interact utilizes the most advanced technological solutions developed by Metzeler, such as its variable tension Interact™ multi zone structure, new composite compounds, new profiles with larger contact areas and an exclusive tread design inspired by Greek Pi (p).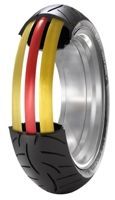 The multi-zone Interact tensional structure utilizes low tension belts in the lean contact areas to produce maximum grip and a high tension central section for maximum road mileage and durability. Latest generation of compounds allow the new Z8 to give great mileage and improved wet grip.
The interaction of all these features make the new Roadtec Z8 Interact tyre perfectly suited to the needs of the modern Sport Touring motorcycle.
The new Roadtec Z8 is the culmination of extensive testing across many different road terrains and with riders logging thousands of test mule miles.
To celebrate the launch of the new Roadtec Z8 Interact, Metzeler gives riders the chance to win an awesome Honda VFR1200F in a soon to be announced online competition, where riders can post their favourite riding videos and opinions.

Steffen Baum, Product Manager explains, "After a long period of development the Metzeler Roadtec Z8 really can be called the ultimate Sports Touring tyre. We have great optimism for this tyre as UK riders continue to take long distance adventure rides and tours."
The new Roadtec Z8 Interact™ is now available in:

120/70ZR17 ROADTEC Z8

180/55ZR17 ROADTEC Z8
190/50ZR17 ROADTEC Z8
From September on aditional in the rear size:

160/60ZR17 ROADTEC Z8
190/55ZR17 ROADTEC Z8
In thes Size 180/55ZR17 Z8 "C" und 190/55ZR17 Z8 "C" there will be alslo a "C"-Konstruktion Specification, for Sport-Touring-Bikes with high wight..

Please visit Metzeler's website: www.metzelermoto.com for news and technical details for the entire motorcycle tyre range