Bridgestone has launched Battlax BT-003RS, a racing street tyre seen for the first time at the INTERMOT 2008 in Cologne. It is designed to provide outstanding street and track day performance for all sporty motorcycles from 250cc on, with the chance to enjoy the exciting grip performance of Bridgestone's MotoGP multi-layer compound technology.
Compared to the BT-002RS it will progressively replace, the new BT-003RS provides total handling improvement in all riding modes – with noticeably better contact feel, feedback, stability and grip – as well as longer wear life
Maximum grip from MotoGP compound technology
Bridgestone has combined its top MotoGP construction technology with its latest multi-compound technology from SACT (Straight And Cornering Technology) to produce a sport tyre that gives high-level grip performance in braking, cornering and acceleration.
The BT-003RS front tyre has a new 3-Layer Compound (3LC): a centre compound for linear handling and longer wear life, flanked by a shoulder compound to secure high grip and a strong contact feeling.
The rear BT-003RS tyre features Bridgestone's new 5-Layer Compound (5LC) technology, used for the BT-016 advanced hypersport tyre launched this year. The centre compound gives good stability and higher mileage; the shoulder compound transfers the engine power to the road with strong traction; while the edge compound provides strong side grip and a massive contact feeling at deep lean angles. The line holding feels almost like riding on a rail.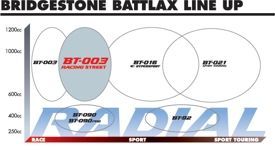 Improved handling
Front and rear construction is based on Bridgestone's proven HTSPC platform (High Tensile Super Penetrated Cord) with steel MSB (Mono Spiral Belt). This one-piece construction enhances slide controllability and line-holding through corners, while providing good shock absorption. The increased compression stiffness it produces helps to maintain a uniform contact patch and stability at high speeds.
Noticeable S-shaped grooves in the centre tread area (for both front and rear) provide outstanding contact feel and precise cornering ability. Also, wide lug grooves placed from the centre to the shoulder tread area enhance drainage and wet performance for practical road use.
Motorcyclists in Europe will find Battlax BT-003RS available in the replacement market in 3 front-wheel sizes and 6 rear-wheel sizes from early 2009
110/70ZR17M/C (54W)
120/60ZR17M/C (55W)
120/70ZR17M/C (58W)
140/70ZR17M/C (66W)
150/60ZR17M/C (66W)
160/60ZR17M/C (69W)
180/55ZR17M/C (73W)
190/50ZR17M/C (73W)
190/55ZR17M/C (75W)
motorcycle tyres tirs, pneumatici moto, moto pneus, neumáticos moto, pneus mota, motorbanden, mc daek, mp renkaat, pneu motocyklové, motorgumik, anvelope moto, opony moto, pnevmatike moto, motocikla riepa, padangos moto, ...